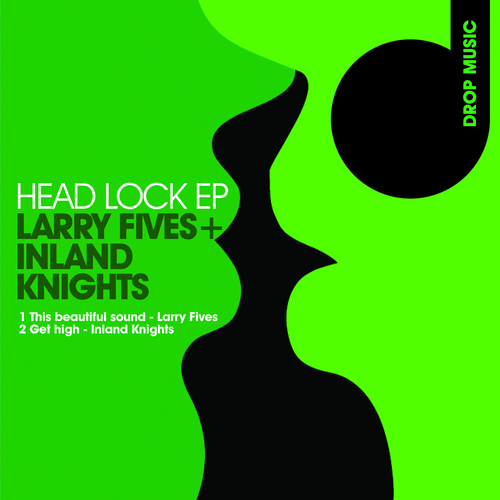 Headlock ep
Available Formats
Tracks
Price
Buy
Download Single (

MP3

)
2 tracks

£

1.42

Download Single (

WAV

)
2 tracks

£

1.92

Download individual tracks
From £0.89
Description
Inland Knights / Larry Fives - Headlock ep
One year on since their last EP on home label Drop Music, Inland Knights are back again with the two track Head Lock EP. One track by the Knights is complemented by another by Larry Fives (aka one half of the IK's, Laurence Ritchie). As ever it's trademark Midlands House complete with chopped up samples all aimed squarely at getting the dance floor jumping.

The last 12 months haven't seen the Knights or Larry Fives twiddling their thumbs however, in fact they've been busier than ever. Their retrospective album 'Inland Bites: Knights Classics' was a huge success at the end of 2010, while Drop Music's forward-looking 'House Bound' compilation, to which the IKs and Larry Fives each contributed a track, is getting people similarly excited. Add to that a Loopmasters sample pack, a single for Trendy Mullet and remixes of Phil Weeks (on Robsoul), Howard Sessions (on Lost My Dog), The Littlemen (for their 10 year compilation) and DustyFruit (on Rebel Hill) and pile it all on top of a hectic worldwide DJing schedule. The only conclusion is that Larry Fives and Inland Knights are very much still at the forefront of underground house as they have been for the last decade!
Reviews
Gareth Whitehead (Bullet Dodge Records): get high for me! can't beat it!
Master Seb (Affolaï): IK, always quality... full support !!
Joey Silvero (Distant People): love that bassline, heavy weight !
Tim White (House Afrika): Just like the earlier drop music stuff - nice and funky - will be supporting TIM,
Catz N Dogz (Dirtybird/Get Physical): Inland Knights track is for me ! will plauy that one thanks /greg
Nicc Johnson (pacha ibiza , Ibiza Global Radio): Chunky!!! playing tonight for sure!
Bryan Jones (Control Recordings): pretty solid. diggin this beautiful sound!
Tommy Largo: like both tunes. will play for sure great artwork too!!
Giano (Italiano Recordings): Lovely EP!
Jay West: the real drop sound, nasty and phat, cant ever get enough of it!
The Sound Diggers (The sound diggers): Welll well well ! Again deep house at its up most finest ! All ready been caining get high for sometime now but larrys joint has just found it self firmly in my sets ! Quality ! BTW both tracks supreme i couldnt pick a fave !
Jesus Pablo (Lost My Dog / Headtunes / Deepvibes Radio): will use on show... nice to see them back on their own label... nice use of samples... :)
Jazzy Eyewear (So Sound): Top Notch! IK's back in action!
B.Original (Pin Up Recordings): Hi fives for Larry Fives all day. Love it
Evren Ulusoy (Loco,I Records,Kolour,Nightdrive,Proton): get high has it's groove.thanks!
JT Donaldson (Gallery): nice1
Mark Farina: like both! Hot bass line in Larry fives jam!
Cenzo Scoglio (MrCenzo & MidiDropMusic): 2 nice grooves here.
Joshua Heath (balance @ king king, los angeles): wicked dirrrty beats from my old favorites :-) beatin these jams
Martin (Get Physical): downloaded for M.A.N.D.Y. thank u!
Hector Moralez (Minority Music): dig it!
Nick Dare / London: two solid tracks, will play both but especially loving get high' for some break beat vibes!
Ant Plate / YSE (Rhythm Plate/YSE): A-up, dancefloor boomers as per usual - nowt less to expect; that string rising sample + triplet hihat slowly becoming a Larry 5-digit signature; win win, get on in! //Ant
SCOPE (BCBtec | NRK | Large | Kolour | UrbanTorque | Night Drive): feelin the fives track!
DJ Heather (Blackcherry): Great stuff as usual from Drop camp!
Alexander East: LOVE IT!
lil mark: great e.p
Werner Niedermeier (Soul Camp, Supplement Facts, Safari, Phonica, Sweat Lodge): Nice release, Get High goes forward n forward. Support
Lauris Lee (RyRalio DJs): Nice on! Great for worming up the night.
Scott Harrington (City Soul Pr (Savoir Faire Musique): Dope! Support
Matt Prehn (Bang Bang): Some nice understated grooves...not a huge fan of the vocal samples but the grooves are good as always! Will try...
Elmar Schubert: No disappointments here, Larry Fives and Inland Knights deliver what they do best - boomtsy boom house that'll get the crowd jumping.
Al Bradley/Chemical Warfare (3am Recordings/Stereo Sleaze, London): The usual quality all the way here, no-nonsense four-to-the-floor grooves, in that inimitable IK style, 'Get High' the one for me, although both are ace.
Murray Richardson (Baker Street / Rebel Waltz): this beautiful sound rocks! - like both trax here!
Jorge Watts (Drop Music, Guesthouse, Beatdown, Blockhead, eXam): Both of these tracks are smokin'! Drop smashing it again...
Greg Fenton (Tilllate / Update): good sound.
Chemars (Ginkgo Music): Difficult to choose between the two tracks, will support.
Sonny Fodera: Get High is dope!
++ Sonny Fodera: Get High is dope!
DJ Meri (Radio 2 - Tallinn Express / ROTD Recordings): Massive! suppot..
Robert Owens: great vibe love it
The Littlemen (Smokescreen Sound System / mobile trax): sophisticated funk, always looking to be creative but still groovy
Nick Holder: Great music here! Feeling both tracks! Thanks for sending!
Phil Weeks (Robsoul Recordings): both tracks are nice! will rock
++ Phil Weeks (Robsoul Recordings): both tracks are nice! will rock
Miguel Migs: drop, bumpin, funky, dubby underground house bizzz thanks!
Todd Omotani (Amenti Music / Vestax Pro / SolidTokyo): Two great cuts! Get High is the one. Coming out of the break is lovely and had me swaying over my laptop. It's going to be mental in a club!
Booker T (dj producer remixer kings of soul): big support
Damien Bailey (special interest): Great 2 tracker here, I'm all over the Larry Fives track. Full support will play
Diz: A bit harder and quirky than i'm used to from Inland but nonetheless a great effort.. tribute to Ron Hardy... nice.
DJ Linus (pacha-exun-gigolo-munich): .......
Giom (Lost My Dog): Of course I'll support these! Really reliable kicking tracks as usual. Amazing production too. Thanks
Karalius (RyRalio DJs): love to get high! :)
Tim Green: liking get high!
Chris Harris: Quality electronic funk from IK! Will def be playing both! Cheers!
Dominic Martin: Get high the pick for me here
Mike W (Kolour Recordings): the legend continues. "beautiful sound" is a solid worker .. the warm chords just hit a certain spot in the belly. solid work here loz! cheers to both you and mr riles all the best mike kolour
Brothers Vibe (Brothers' Vibe Productions): Both trax are workin'!!
Shir Khan: GET HIGH is fucking cool!
Grant Nelson (Swing City): big as always!
Luke Solomon (Music For Freaks): ace ...love this loads