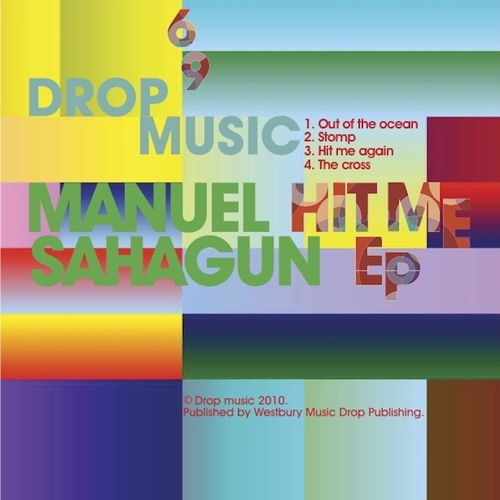 Hit Me EP
Available Formats
Tracks
Price
Buy
Download EP (

MP3

)
4 tracks

£

2.86

Download EP (

WAV

)
4 tracks

£

3.84
Description
Manuel Sahagun - Hit Me EP
Here's What The Dj's are saying

Name: Gramophonedzie
Comments: Manual Sahagun always unique. Great tracks!

Shir Khan
Comments: STOMP and HIT ME AGAIN are great. Will play.

Name: Aaron Ross (Defected)
Comments: LOVE STOMP.. naughty little banger!!

Name: Frankie J Spatula records
Comments: wow, this is a seriously smart ep. loving every track on it, all impressively produced and perfectly placed. grade A tunes here, and very hard to pick a favorite

Name: Luke Solomon
Comments: odd but some how endearing, 4/5 from me

Name: Nick Holder
Comments: Great work here! Thanks for sending!

Name: Graeme Park
Comments: The Cross is superb! Maceo & The Macks never sounded so fresh!

Name: Tommy Largo
Comments: great sounding funky tracks. like them all.

Name: Doc Martin
Comments: Very good as always!!!!

Name: Mark Farina
Comments: wonderful EP from one of South america's finest house producers!

Name: Sonny Fodera
Comments: Quality sounds right here! Stomp is the one for me!

Name: Soydan
Comments: brilliant full support! thanks

Name: Sneak
Comments: stomp is nice, old relief records style track.

Name: Jason Hodges
Comments: a real freakin good EP

Name: Dubble D / Moodymanc
Comments: Cool tunes with unusual twists...

Name: Greg D Fish go deep
Comments: cool pumpin dancefloor stuff will play

Name: Da Sunlounge
A class! Will play in San Fran, Portland and Seattle this weekend!

Name: Julian Sanza
Comments: Great set of tunes!!! thanks a lot!!!

Name: Nacho Marco
Comments: Good one, full support as usual to Drop Music.

Name: Jay West
Comments: been playin most of this cuts a lot, as always great work from

Argentinean Manuel Sahagun has proved himself as one of the leaders of the burgeoning South American deep house scene in recent years with a string of releases on labels such as Wiggle, Blockhead, Kolour, Candy Music and So Sound. The 'Hit Me EP' is his second outing on Drop Music, the first being the 'Dirty Dancing EP' in 2008. Both his and Drop Music's trademark deep, funky and bumping sound, complemented by well placed samples, is in evidence on three tracks, while the fourth cut mixes things up with a slower tempo broken beat.

Manuel Sahagun background
As a DJ influenced by the likes of DJ Dan, Derrick Carter and Sneak in the early 2000's, Manuel positioned himself quickly as a house music reference among Argentinean DJs with his residences at Superclub (now Crobar) and Buenos Aires' own Pachá. He also played in clubs and big festivals like Creamfields Buenos Aires, Personal Fest and Festival BUE sharing billings with international artists Chemical Borthers, Pet Shop Boys, Primal Scream, Blondie, P.J. Harvey, Morrisey Massive Attack and FC Kahuna. Today, Manuel travels all over the world playing at several events and bringing his blend of house music to fans everywhere.

As a producer Manuel Sahagún began in 2002, but it wasn't until 2005 when he got his break with an EP signed to Nathan Coles' Wiggle Recordings. Manuel shows diversity a producer taking in deep, funky, tech, electro and disco sounds while keeping it fresh and original with clever sampling and funky bass lines, guitar licks, and trippy progressions. He has also been remixed by many important DJ's from the underground house scene like Jay West, Da Sunlounge and Inland Knights. His music has received huge support from DJs like Terry Francis, Mark Farina, LawnChair Generals, Miguel Migs, DJ Heather and many tracks has been licensed to commercial compilations like Hed Kandi, Ministry Of Sound, DJ-Kicks, Milk & Sugar and more.