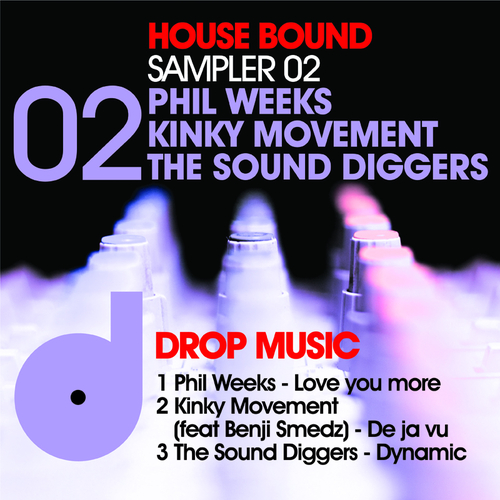 House Bound Sampler 2
Available Formats
Tracks
Price
Buy
Download Single (

MP3

)
3 tracks

£

2.12

Download Single (

WAV

)
3 tracks

£

2.88

Download individual tracks
From £0.89
Description
Various Artists - House Bound Sampler 2
Time for the second 'House Bound' sampler - our new album project of brand new and exclusive music from some of the scenes new, most exiting and respected names.

this pre-release of Sampler 2 is available now, exclusively from the Drop Music Digital Store and includes tracks from Phil Weeks, Kinky Movement and The Sound Diggers. 'House Bound' will also be released as a full nine-track digital download package on 15th August
Reviews
Tony Humphries: Nice hyped tracks! Full support
Diz: Love You More does it for me on this one.. Phil is at it again with the seriously quirky wiggle.. well played!!
Mark Farina: Im house bound!
Nils Nuernberg (Kruse & Nuernberg): Always digging Phil's stuff... Really NICE!
Dan Drastic (Moon Harbour): Phil Week's track is nice.
Florian Kruse (Kruse & Nuernberg): ACE PACKAGE!!! Pure funkiness!!! LOVE IT!
Miguel Migs: fresh old school funk on "dynamic"!... nice jams here thanks...
Bearweasel: vintage Drop music sh!t from Phil- great
Huxley: phil weeks is the best for me, but the sound diggers is nice and retro!!
Gramophonedzie (Diskozoo): All 3tracks are gold! Drop cant go wrong!
Raoul Belmans (Swirl People / Swirled Music): Dynamic!
Shir Khan: Phil Weeks is always on top of his game.
Leigh Morgan (Urban Torque): funky groovy house music, good stuff
Davidson Ospina (Ospina Digital / Open Bar Music): Great fun vocals
Till Von Sein: cool package ..dig phil´s jam and the sound diggers one.. thx t
Craig Hamilton (Flatpacked): This release is of the A grade high quality stature. Phil as always kills it, Kinky movement never fail to please & Justin on fine form yet again. Big release.
Robert Owens: love it, all tracks great
Matthew Bandy (Limestone Recordings): feeling dynamic, great work...
Rick Preston: Damn! All three of these are slammin'!!! Thank YOU!
Jason Hodges: just as good as part 1..support!
Hector Moralez (Minority Music): Phil's track is Classic
Dominic Martin: Really liking the Phil Weeks track, will defo play this out.
Tommy Largo: "love you more" is the bomb!!! one of the sickest breaks ever! other 2 tracks on this ep are also very nice. full support.
Sonny Fodera: Nice trax!! Fav is Dynamic for sure! Love You more is cool too.. thanks!
Atnarko (EIGHT-TRACKS): Kinky Movement does it !
Luke Solomon (Classic / Music For Freaks): Dynamic is cheeky I like it
Distant People: just love the flute this track really makes me think of sunny streets of san fran, funky as hell mate !
Massimo DaCosta: Phil's tune is dope !!!!!!!!!!!!!! Cant wait to play it out
Demarkus Lewis: Tuff choice between Phil and the Diggers but I think the Diggers will win this round.. Just too Damn funky!!!
Werner Niedermeier (Soul Camp, Supplement Facts, Safari, Phonica, Sweat Lodge): the sound diggers got the funk. great stuff!
Elmar Schubert: Phil Week's track is fun cut-up house. Give me more of that!