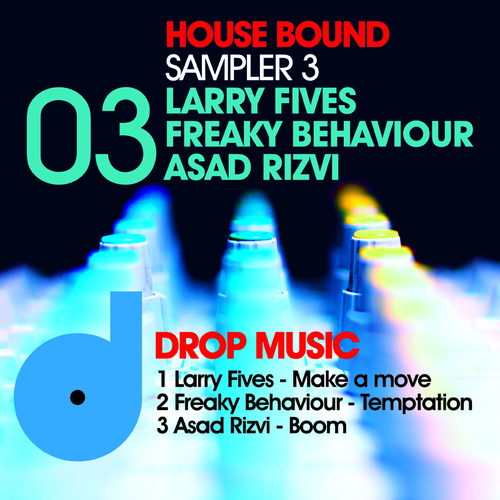 House Bound Sampler 3
Available Formats
Tracks
Price
Buy
Download Single (

MP3

)
3 tracks

£

2.12

Download Single (

WAV

)
3 tracks

£

2.88
Description
Various Artists - House Bound Sampler 3
Drop Music, one of the UK's most respected and longest running 'underground' house imprints present a nine-track album of brand new and exclusive music from a blend of the scenes new, most exiting and respected names. 'House Bound' sees industry stalwarts Inland Knights, Phil Weeks and Asad Rizvi appear alongside rising stars Freaky Behaviour, Robert Boogert and The Sound Diggers while the ever reliable Giom, Kinky Movement and Larry Fives gel it all together.

As always with Drop Music releases, the focus is on making the dancefloor move to their trademark funky and bumping 'Midlands' brand of house music. House Bound will be released as a full nine-track digital download package on 8th August, with three individual samplers (on vinyl and digital formats) on in the weeks prior.

Drop Music is now in it's 12th year having released almost 75 vinyl EPs from artists including label bosses Inland Knights, The Littlemen, James Curd, Crazy P, Joshua Heath, Sonny Fodera, Jake Childs, Manuel Sahagun and many more.

iDJ: "One of the scene's longest-running and most reliable imprints, defining the boompty-fied, west coast-influenced deep house sound of the East Midlands."

5 Mag, Chicago: "Twelve years and counting, Drop Music is still a force to be reckoned with.
Reviews
Nick Holder: Wow! House Bound Sampler 3 brings it!
Da Sunlounge (Myna/Bambino): Larry Fives track is nice, has a slight old skool electronic vibe too it with that stutter vocal.. sure to wake a dance floor up.. Been dropping a version of this Asad track for the past year, never fails to please the floor.
Matt RiVEM (Rhythm Plate/Bleep District): all three tracks are really good - my favourite probably being the sampletastic magpie funk of the freaky behaviour track. this is deffo my fave EP of the three drops.
Joshua Heath (Golden State): funky goodness throughout!!
Jay West: laurence brings the heat here!
Justin Harris (Freaks): Asad's Boom is badass!
B.Original (Pin Up Recordings): Wow Lary Fives & Asads tunes are massive. Full support on both. Nice One
The Sound Diggers: This was the most impossible decision ! I love asad's track on web par ! They just float my boat! Top draw!
Thomas White (Natural Rhythm): "Make a Move" reminds me of the old S4G/DIY bassline style... Sick one! Such a funky package all around
Manuel Sahagun: House bound collection it's a wonderful sampler of modern house music. Love it
Dudu Palandre (Anhanguera): Hot Damn! Dope tunes as always from Drop! Guys are killing it! Full support.
Chuck Daniels (Sampled Recordings): Drop always coming with something solid! Boom is the cut I will play! Cheers!
Distant People: shaking groove ! make a move delivers! temptation has a fantastic retro edge !
DJ MFR (Transport Recordings): Excellent full support
Massimo DaCosta (Vernon&DaCosta/Homecoming Music): some serious groove here. Asad's tune is hot !!
Vincent Kwok: Great release!
Husky (Random Soul): freaky bahviour in the hizzzaaaaaayyyyyyyyy ! dope
Erefaan Pearce (77soul): BOOOOOOOOOOM dropping this one to death
Jon Delerious (Nordic Trax): Pure Heat from DROP!!