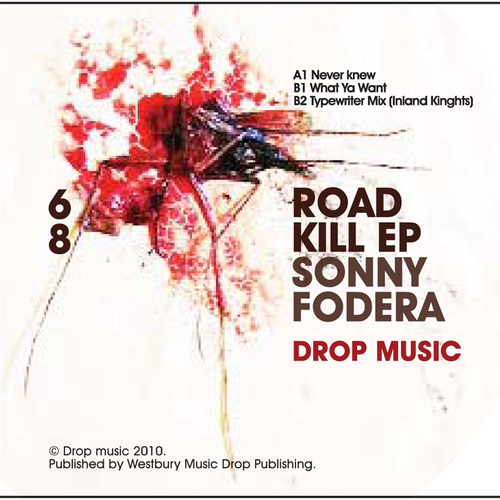 Road Kill EP
Available Formats
Tracks
Price
Buy
Download EP (

MP3

)
3 tracks

£

2.12

Download EP (

WAV

)
3 tracks

£

2.88
Description
Sonny Fodera - Road Kill EP


With the last Drop Music outing still riding high in DJ charts and sales charts, the Nottingham based label are back with a fresh instalment and a producer from the other side of the world. Australian Sonny Fodera delivers his second EP for Drop, following the three track 'The Beatdown EP' in 2009. His two original tracks here on 'Road Kill EP' stay true to the classic bumping house sound of the Midlands, while exploring further into funky and soulful areas. Label bosses Inland Knights provide a remix, working the vocal as only they can over a devastating groove.

Don't Just take our word! read the reviews for yourself. Below..
Reviews
Mark Farina
wonderful!!!
Tom Findlay Groove Armada
They Are all great! never know orig is my fave tho' uplifting groove
Aaron Ross (Defected)
That's the shit right there... love it.. gonna be in the sets all summer for sure!!! killer...
Joey Silvero
yes yes! i feel eyes on me, like this hook! all track are cool, inland knights come with a fantastic disco tweek mix hot
Phil Weeks
It's sick
Karl Frampton
all the mixes are super slick loving what you want ! Thanks guys for another top notch package ;-)
Ben Logan / The Layabouts
wicked stuff, count on our support for this one, love what sonny fodera is doing.
Justin Harris
class ep... nice.. will defo support
Berger | Decks By The Beach
Really diggin the tracks. Feelin' What You Want. Full support!
Nils Nuernberg
Great! Proper House Music! At last... THX! Definitely playing this out!
Johnny Fiasco
Bring on the funk!!
Giano Italiano Recordings
SICK!!! All tracks are dope!! Thanks!!
Jason Hodges
Sonny always delivers the heat!
Sound Diggers
Really really insane this EP! Drop is and has always been top of the pile for me for many years and this is no exception! Sonny is on serious fire at the moment as for th einland knights well they are still in a place of there own !
DJ Mes
soulful business from Mr. Fodera! Digging the IK remix as well. Full support form Guesthouse and DJ Mes.
SCOPE
sick release.. love all 3 cuts.. full support!
Giom
I like both versions of "never knew". Sonny's production always works and the Knights are always being inventive yet staying true to their sound. Me like, and will play
Jesus Gonsev
Nice release!What you want track is my fav,very elegant!
James Curd
All the songs are really great. WIll find their way into my sets for sure.
Robert Owens
great track love the vibe
Husky (Random Soul)
Sonny's tracks sell themselves these days.. not really much else to say.. he has the formula on every release and it always works.. but HOLD UP.. the IK mix is insanity... i have bought their records for almost 10 years, and they continue to impress me and feature in my sets.. all hail IK !
Diz
Definitely a joint the rooms i been playing lately are gonna groove to!!! Good looking!!
Kid Massive
quality soulful house music...
Raymundo Rodriguez
Drop music have the funk and soul we need, an superb package.
JT Donaldson
hot business as usual from mr. fodera and inland knights !!!
Mr V
funky as hell, will def support.
Deep City Soul
BIG!! Drop music nuff said
Catz N Dogz
proper house music!!
Dominic Martin
A sterling 5 out of 5 from me here, if you like your house bumpin' it really does not get any better than this, Sonny Fodera has been on fire for a while now and this will be in the box for a long while, top notch.
Soydan
Brilliant! just love it .... full support thanks
Raoul Belmans
Different but fresh new IK sound! FTW! Sonny's originals are very nice too!
Miles Maeda
Wow, nice EP! Love the re-working of the Whitney Houston. Solid overall!
Dubble D / Moodymanc
feelin' that fodera funk here!!!cheers!