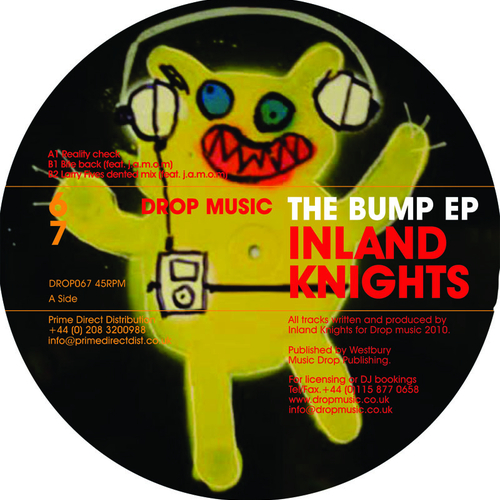 The Bump EP
Available Formats
Tracks
Price
Buy
Download EP (

MP3

)
3 tracks

£

2.12

Download EP (

WAV

)
3 tracks

£

2.88
Description
Inland Knights - The Bump EP


New Inland knights EP On drop music . First full Ik ep on drop for a long time!!

Reviews
Mark Farina – "Great stuff"
Ralph Lawson--sounds great, solid production and strong grooves. cool little vocal in 'Reality Check' to boot. Will play 'Bite Back' as well for sure
Shur-I-Kan – "Yeah liking it, Reality Check bumping along nicely"
Giom (Bobby & Klein) – "This is exactly my kind of music. Great Stuff as usual!"
Dubfire – Rating: 5 "wicked"
Sneak – "great shiet"
Doc Martin (Sublevel) – "Bumpty Bump Bump ; )"
Bushwacka – "Good skills"
Ashley Beedle – "Great EP with the Knights on fine form. Big support"
Brothers Vibe (Brothers' Vibe Productions) – "Bite back is on for sure"
Russell Deeks iDJ / This Is Why We Dance--Do you even need to ask?! Lovely stuff, will support
Anil Chawla – "Will definitely support Reality Check. Love the groove on Bit Back"
Luke Solomon (Music For Freaks) – "Real real good guys"
Kink (Rush Hour) – Bite Back with J.A.M.O.N. won me"
Charles Spencer--more quality from IK. full support!
Orde Meikle (Slam) – "top producers – tough house grooves"
Stuart Patterson (East Village/ Faith) – "always good to get some drop"
Tom Novy (Space) –"play this! It´s good!"
Miguel Migs -"more cool trax from the Knights"
Miles Maeda (Smart Bar/ Chicago) – Rating: 5 "Hot Hot Hot!!!"
Dirt Crew - Rating: 5 "very nice ep. Full support guys! Reality Check it is!"
Joshua Iz--Bite Back is awesome - can't wait to drop it tonight (pun intended)! Thanks! -- Joshua Iz
JT Donaldson--dope tracks, nice one getting jamon on the mic
Funky Transport--Loving Bite Back - Cool vocal and really really solid backing. GOOD STUFF ! ! ! will be giving this heavy airplay. Wish Inland Knights would do more stuff like this.
Fish Go Deep--like all mixes will play always love the inland knights sound
Joshua Heath--usual dope business on the drums production for reality check. nice and druggy for those dark corners of the night :-) Both mixes of Bite back have got that dirty chug that I love form yall as well. wish I actually had these for miami!!
Stuart Patterson--always good to get some drop/ inland knights and this doesn't dissapoint..