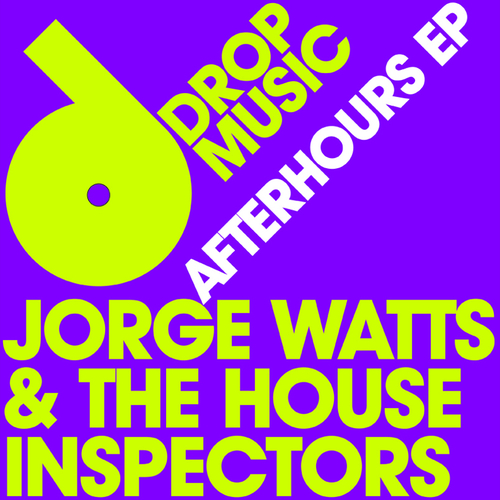 Afterhours EP
Available Formats
Tracks
Price
Buy
Download EP (

MP3

)
3 tracks

£

2.12

Download EP (

WAV

)
3 tracks

£

2.88

Download individual tracks
From £0.89
Description
Jorge Watts & The House Inspectors - Afterhours EP
Jorge Watts & The House Inspectors join forces in a three-way Aussie partnership for their debut release on the legendary Drop Music. In typical style from these artists and label the focus is on funky, fun and upbeat house music. All three tracks will resonate with fans of Inland Knights and continue the uncompromising tradition of one of the UK's longest serving and most respected house labels.

Jorge Watts, who also records as Loop Killaz, The Subjekts (with Sonny Fodera), Tokyo 3, Mr WattO and The Azteckid, can be found on labels such as Global Trax, Subsounds, WET Musik, 1200 Traxx, Hard Hat Recordings, Blockhead Recordings, Random Access Recordings Detroit, Undefined Australia and Vast Recordings. His music has received support and been licensed to mix compilations from major players in house and techno including across Carl Cox, DJ Sneak, Slam, DJ Rush, Mark Farina and Derrick Carter. His 2009 'Up To The Sky' release was one of the years biggest released in underground house circles. He has been an important ingredient of Adelaide's club scene for well over a decade and has taken his rhythm shaking sound round the world, including a spell living in Chicago.

Also from Adelaide are Luke Jamieson & Daniel Treloar, collectively known as 'The House Inspectors'. Describing their sound as "organic, deep, soulful, jazzy, jacking house", they have released music for likeminded labels Guesthouse, Salted, Flapjack and Control, and picked up support from Frankie J, Random Soul, Joshua Heath, Chuck Love and Jay-J along the way.
Reviews
Gramophonedzie (Diskozoo): TOP MUSIC! FULL SUPPORT! Jorge and THI are killin it!
Al Bradley (3am Recordings/Chemical Warfare/Bugged Out, Manchester): Ace grooves here, top stuff. Hot Shit is, well, hot shit! The bass is wicked & the overall groove a killer, mint. The pick for me is 'Groove On', again superb 4/4 direct for the floors, really strong deep & grooving house. A top EP all round!
d-T3ch: Hot Shit is my pick of the lot.
Mark Farina: super hot shit!
Johnny Fiasco: Proper DROP MUSIC!!!
Phil Weeks (Robsoul Recordings): will play sounds good
Kinky Movement (Replay Records): good stuff , house inspectors are producing some of our fave tracks.
Kid Massive (Audio Damage): groove on is my pick.. nice jacking house
Benji Candelario: Great Groove!!!! Killer Sax!
Nicc Johnson (pacha ibiza , Ibiza Global Radio): Dope! dropping these in my next set. tech/jazz/jack house!!!
Giano (Italiano Recordings): SUPER DOPE EP ALL ROUND! WOW!
severino Panzetta (Dalston superstore/redlight/barcode/horse meat disco/various): BOTH 3 tracks are SICK! Thanks
Tom Special Interest (Phobic Recordings): once again drop with another great release, full support.
Werner Niedermeier (Soul Camp, Supplement Facts, Safari, Phonica, Sweat Lodge): pure house feeling. great
Jazzy Eyewear (So Sound): Great Funky tracks, full support!
Rick Preston: Damn! All three tracks are SMOKIN'!!!
Amir Javasoul (PlastikPeople (FR) Tbar(UK)): thanks. cool tracks but not my thing
Raymundo Rodriguez (Jaded @ Cable London/various/BWO Records): Cool bumpy vibes.
DJ Mes (Guesthouse): Solid release from the crazy Ozzie's! Sittin on Top is my pick of the litter.
Jason Hodges: Jorge Watts comes with it..thanks for this!!
Vincent Kwok: Hot Shit is funky!
Dudu Palandre (Anhanguera): Great EP. Deep, funky and dope. Like all 3 tracks, gonna play them out this weekend. Full support always for Drop Music
Sonny Fodera: Sick!!! Adelaide knows whats goin on
J.A.M.O.N.: this whole ep is rock solid!! Jorge Watts & The House Inspectors deliver!
Joshua Heath (balance @ king king, los angeles): groove on is the one for me
DJ Pope: nice tracks
Joey Silvero (Distant People): funky slammin grooves, hot shit is exactly that, real cool !
Da Sunlounge (Myna Music / Bambino Recordings): Hot Shit & Groove on are in my bag! Nice bumpy stuff, not to jacking.. I like it.
Afroboogie (Various clubs): groovin trax here, perfect for half my sets thanks
Greg Fenton (Tilllate / Update): nice tracks
Hippie Torales: Hot Shit is hot. Nice sax groovin.
Romano Arcaini (Latenight Society / Tight Recordings): hot shit is the bizzz thank for sending
Gee Moore (Bora Bora): Excellent thanks :G) - Bora Bora
Kiko Navarro (Pacha, Garito Cafe, King Kamehameha /Loca FM / Danza FM / Mallorca): sittin on the top has da groove! the one for me!
Tommy Largo: great tracks from the aussies! will play
Feygin (Kiara): hot shit is the one for me. some super funk!
Kirby (Nordic trax, darkroom dubs, elevation, tango, amenti...): Hot shit sounds cool !
Deron Delgado (Stompy): Solid!! Great producer combo!
Miguel Migs: some cool tracks here, thanks!
Nick Holder: Serious stuff! Thank you!
Dave Allison (Kinjo Music): yes! crispy beats, and hot grooves, the Aussies are all over it again! nice team up EP here, hard to pick a fav, dope bass on Hot Shit & Techy flavas on Groove On. I'll play all of em
Blacksoul (Blacksoul Music): i like it
Chris Harris: Quality selection of house cuts! Hot Shit prob edges it for me but also love the low slung bass on Sittin On Top. Cheers!
Dominic Martin: Good ep, all tracks offering something different, but I think Groove on is the one i will be playing out
Peckos/Sven Van Coillie: Nice one, Groove On is my pick here!
Davidson Ospina (Ospina Digital Records / Open Bar Music): Funky !!! :-)
Dj Soydan (Yakuza Recordings): all of the tracks are great thanks to lads :) and drop musica...
Diz: More "HOT SHIT" from the Drop family courtesy of Jorge Watts indeed someone to keep an eye on!!!
Derek Dunbar: Like the vocal stabs of Grove On
Nacho Marco (Loudeast / Sonar): Hot Shit is my favourite here.
Husky (Random Soul) (Random Soul Recordings): nice ep.. groove on and hot shit doing it for me.. nice one lads !
Brandon Block (bloxbox): jackin man wicked
Sound Diggers (The sound diggers): what else would you expect off drop other than high quality ! sick sick sick ! spinning this tomrw for sure !