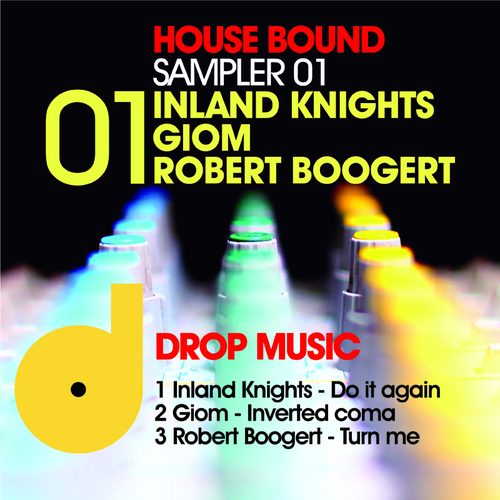 House Bound Sampler 1
Available Formats
Tracks
Price
Buy
Download Single (

MP3

)
3 tracks

£

2.12

Download Single (

WAV

)
3 tracks

£

2.88

Download individual tracks
From £0.89
Description
Various Artists - House Bound Sampler 1
This is part 1 of a 3 part album

House bound sampler 1

Drop Music, one of the UK's most respected and longest running 'underground' house imprints present a nine-track album of brand new and exclusive music from a blend of the scenes new, most exiting and respected names. 'House Bound' sees industry stalwarts Inland Knights, Phil Weeks and Asad Rizvi appear alongside rising stars Freaky Behaviour, Robert Boogert and The Sound Diggers while the ever reliable Giom, Kinky Movement and Larry Fives gel it all together.

The Emphasis been all original new exclusive one off tracks with no remixes or third track ep padding.
They've all been road tested By the inland knights and meet the quality seal of approval.

1 Inland Knights "Do It Again"
2 Giom "Inverted coma"
3 Robert Boogert "Turn Me"



As always with Drop Music releases, the focus is on making the dancefloor move to their trademark funky and bumping 'Midlands' brand of house music. House Bound will be released as a full nine-track digital download package on 8th August, with three individual samplers (on vinyl and digital formats) on in the weeks prior.

Drop Music is now in it's 12th year having released almost 75 vinyl EPs from artists including label bosses Inland Knights, The Littlemen, James Curd, Crazy P, Joshua Heath, Sonny Fodera, Jake Childs, Manuel Sahagun and many more.
Reviews
Gramophonedzie (Diskozoo): FOOOOOO! GREAT!
Grant Nelson (Swing City): IK & Giom spanked it!
Nils Nuernberg (Kruse & Nuernberg): 'Do It Again' is awesome. Great groove.
Mousse T: Wowsah!
Roger Sanchez: Downloading, thanks!
Justin Harris: wooH!!
DJ Rork: good sampler for this summer!! In my bag!
Orde Meikle (Slam): Very strong EP -n thanx
Quentin Harris (Strictly Rhythm): A friend came over and these three tracks were playing continuously on my computer while we talked. I kept noticing this one track (it must have played three times). I took a look and that's how I got hooked on Do It Again
Agnes YES!!!!
Robert Owens: great group of tracks thx
Graeme Park: Good selection. That Inland Knights bassline is very similar to the recent "Flashback" by Michael Gray, Marco Lys & Plastik Planet feat. Xavier
Peter Christianson (LawnChair Generals): OOOOO Weeeee, the jams!:)
Huxley: all three are solid. inland knights is my favourite i think.
Raymundo Rodriguez (Jaded @ Cable London/various/BWO Records): Good grooves through and through.
Mark Farina: great ep!
Da Sunlounge (Myna Music / Bambino Recordings): Been playing do it again.. loads, works every time. Inverted Coma is a little different for Giom, but Iove it! Robert Boogert continues to bump out the tracks, great stuff great EP.
Mousse T: wowsah!
Jay West: very nice, all tracks are cool here, hard to pick once so I guess will be playin them all!
Tommy Largo: dope tracks on this sampler. will play
DJ Mes (Guesthouse): Robert Boogert is on Fire! His unique style has just the sound, track structure and progressions im after in my sets.
Craig Hamilton (Flatpacked, Chicago House FM): Nice EP on offer here will definitely be supporting this.
Al Bradley (3am Recordings/Chemical Warfare/Bugged Out, Manchester): Wicked three-tracker here, IK doing what they do so well, ace bass action & snips of vox, v.cool!
Matt Prehn (Bang Bang): Quality as always from the Drop stable. All of these will definitely find a home in my sets! Turn Me is especially fresh...dig it!
Benji Candelario: Good Tune!
Nacho Marco (Loudeast / Sonar): Yesssss ! In the case !
Nicc Johnson (pacha ibiza , Ibiza Global Radio): I Love it. All three are badass! Cant wait for the rest of the album sampler.
Deron Delgado (Stompy): That is how its done. IK mix is perfection.
Gareth Whitehead (Bullet Dodge Records): giom does it again. great stuff!!!!!!! inland knights track is ace too
Jesus Pablo (Headtunes / Cubism / Deepvibes Radio): all track are quality... hard to choose a fav... will be support in shows / sets for sure... :)
Giom (Lost My Dog): Listening to these tracks will increase your sex life
Peckos/Sven Van Coillie: Nice EP, solid house! Giom & Inland Knights are my picks here!
SCOPE (BCBtec | NRK | Large | Kolour | UrbanTorque | Night Drive): quality ep.. feelin the IK's and giom cuts
Diz: "Do It Again" is the stand out on this ep... Inland Knights reverting back to the truth being "less is more" respect guys.. Thumping with great party vocal snips.. surely to keep the butts on the floor!!! Respect..
Brothers Vibe (Brothers' Vibe Productions): It's ALL good man... :o) wicked
Agnes: Yes !!!
Charles Spencer (Loveslap): do it again works for me. Thanks !
Pol_On: very nice records :)
Andy McLoughlin / Kinky Movemet (Replay Records): Top Notch! Feel all three tracks nice variety, solid work from giom and feeling Robert Boogerts track as well, quirky sound. Absolutely lovin IK mix though. All day everyday.
Joshua Heath (balance @ king king, los angeles): Been hammering 'do it again' already and love the heavy groove on Giom's tune as well.
Dj Soydan (Yakuza Recordings): Fantastic!!!
Jason Hodges: IK always doin the do!
Jazzy Eyewear (So Sound): Amazing sampler, IK's my pic, brilliant!!
Erefaan Pearce (77soul): Great Ep Inland knights the winner on this one
Joey Silvero (Distant People): doit again, just lifts you spirits, like inverted coma also, reminds me of modern day cassius.
Dubble D / Moodymanc: do it again grabbed me here thanks
Scot (i! Records, Pack Up & Dance): Best EP I've heard in ages and so hard to pick a favourite...torn between them all. Thanks, full support from us
The Littlemen (Smokescreen Sound System / mobile trax): great tunes, looking forward to the next installment..been playing the ik track to v favorable reaction
Rick Preston: Dig the Inland Knights and the Giom tracks!!!! Awww yeah!!! :)
Nick Holder: Liking this pack! Do it Again is dope! Thanks for sending!
Jevne Miller (Onethirty Recordings / SS Radio): Do it Again is a throw down! nice one!
d-T3ch: Do It Again is very nice
Tres Manos (Your Only Friend / Red Underground - Barcelona): Preper Funky House EP. Fun dancefloor jackers here. Nice one guys!
Giano (Italiano Recordings): GREAT EP!
Manuel Sahagun (Candy Music): Hot hot hot!
Ant Plate / YSE (Rhythm Plate/YSE): A-up, Solid productions all around here! I like all three tracks (even Roberts track with his "Shit! ..the drum machine isnt on the right drum kit!" style drums! top sample use though) but.. OK and call me biased now but it has to be my Man GIOM whose rocking this EP the most for me.. Gritty, chunky and funky!
Dibby Dougherty (Yello - Bedrock - Parquet): 3 stunning numbers, great! love them
Jesus Gonsev (Troubled Kids Records): !Inverted Coma is my fav!!do it again is very good too!
Chuck Daniels (Sampled Recordings): Inland knights always coming with the heat! Great Ep all around will play!
Kirby (Nordic trax, darkroom dubs, elevation, tango, amenti...): Great pack ! lovin' Do it Again & Inverted coma, thankssss !
Evren Ulusoy (Loco,I Records,Kolour,Nightdrive,Proton): giom is the best pick for my taste,Thanks!
Sound Diggers (The sound diggers): ALl 3 Samplers are pure heat, Been hammering the sh*t out all tracks. Drop is still the leader of the pack 12 years on!
Husky (Random Soul) (Random Soul Recordings): yes ! a promo that lights me up and makes my hips shake.. thanks drop music for never disappointing ! husky :)
Frankie J (Spatula City Records / Flapjack Records): Drop and IK are always a staple in my papers ;) Do It Again is god damn fantastic, and I have really been loving everything I have heard from Robert Boogert.