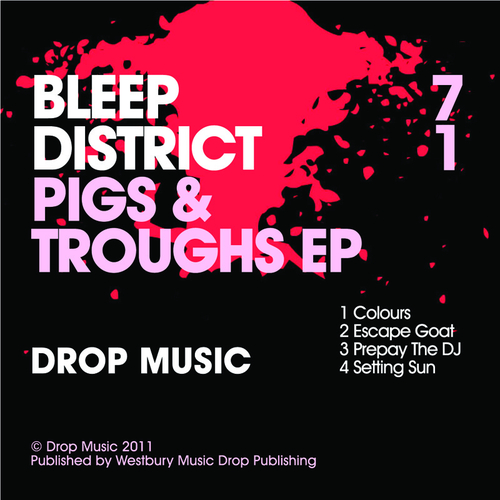 Pigs And Trough's EP
Available Formats
Tracks
Price
Buy
Download EP (

MP3

)
4 tracks

£

2.86

Download EP (

WAV

)
4 tracks

£

3.84

Download individual tracks
From £0.89
Description
Bleep District - Pigs And Trough's EP
Following a hugely impressive string of EPs for Winding Road, Amenti, Lost My Dog, Ornate and Replay, Bleep District now join the mighty Drop Music with their four track 'Pigs & Troughs EP'. As always the emphasis is on fun, party-starting, funk-riddled deep house.

Hailing from Nottingham, via Matlock, Bleep District is the duo of Matt Rhythm (of Rhythm Plate) and Matt Powell. As Bleep District they have achieved success on the aforementioned labels, as well as remixing for Kolour Recordings. Their own music has been remixed by LawnChair Generals, Giom and Jonno & Tommo.
Reviews
Magik Johnson: killer ep..thanks
Diz: Business as usual for Drop Music.. "Big" tracks for small rooms!! I love it!
Miguel Migs: diggin on 'setting sun' thanks
Mark Farina: been a minute since some new bleep dist! Nice!
Fred Everything: Very good ep overall. Colours is my fave but I also like Setting Sun...thx!
Moodymanc (Dubble D, 2020 Soundsystem): outstandingly good house music! All excellent!!!Basstastic!!!
Fish Go Deep: funkin will play, solid EP
DJ Heather: More great music from Bleep District and Drop Music; killer combo.
Todd Edwards: Well produced tracks. Nice hooks. I can work Escape Goat into my set.
Peter Christianson (LawnChair Generals): Bleep District are like fighting chickens.......awesome! Four tracks of dopeness, a much needed injection
Giom (Lost My Dog): Me love the Bleep! Full support on all track
Julian Sanza (2020 Soundsystem, Silver City): Great release! Thank you!
Nick Holder (NRK / DNH): Solid release. Quirky and well paced.
Soul Minority: Wicked !!!
Deepchild (Trapez, Anabatic): Bang-on hausmusik! Chunky, on-point and uber-fonky
Evren Ulusoy (Loco, I Records, Kolour): colours for me here.thanks !
Scope (BCBtec, NRK, Large): love colours.. full support!!
Li'll Bo Tweak (Chris Belsey & Trevor Loveys, Loungin): Liking the bumpy groove. Nice!
Kirby (Nordic Trax, Darkroom Dubs, Amenti): Lovin it ! really nice EP ! it do remember some tracks on 'classic rec.' really groovy. another great release from bleep district
Nicc Johnson (Pacha Ibiza, Ibiza Global Radio): You can quote me on this...Fucking Dope!
Rick Preston: Siiiiiiiiiiiiiiick!!!! Every track is SLAMMIN!!! Thank YOU!!!
DJ Mes (Guesthouse): Solid EP! 'Escape Goat' gets my pick. Ill play it this weekend
Frankie J (Flapjack Records): i was wondering when Bleep District would land on Drop. Their sounds totally suits it, and this EP is testament to that. Loving Escape Goat & Prepay The DJ
Mousse T: bouncy little f****
Nacho Marco (Loudeast, Sonar): Yes ! In the box.
David Tort (Amnesia): so deep and so groovy, the perfect vibe for the clubs. luv it
Elmar Schubert: Setting Sun is the one for me - millions of cut up samples and a great bassline!